The accommodation at Finlay Park is Flexible based on the size and make-up of your group.
Click here to down load our sleeping arrangement map
Finlay Park recommends that children under the age of 9 years old, and anyone with a sleeping disorder like sleep walking should not sleep in a top bunk bed, in accordance with the AS/NZS 4220:20 10 bed standard.
Lagoon Suites
Number of Suites: 4
People per cabin: Suites 1 has 2 single beds, plus a small kitchen.  Suite 2 has two bunks and one single bed accommodating 5 people.  Suite 3 has one bunk and two single beds accommodating 4 people. Suite 4 has a double bed, plus a small kitchen
Ensuites: Yes
River cabins
Number of cabins: 4
People per cabin: Cabins A, B and C sleep 10. Cabin D sleeps 12
Ensuites: Yes

Lake Cabins
Number of cabins: 10
People per cabin: 8
Ensuite: No
Other: Under floor heating.  Male and female toilet blocks located centrally between the 10 cabins, 5 cabins either side.
Apartments
Number of cabins: 8
People per cabin: 10
Ensuite: No
Other: Male and female toilet blocks located within 20m of all down a hallway.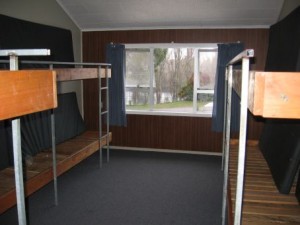 Out Camp
Most of our schools will head out to out camp in the afternoon with either a 90 min long walk or a short 20 min walk into outcamp. The long walk feels like out camp is in the middle of nowhere when it is really a short walk across the river from the main camp. Once you get there either carrying your gear in or Finlay Park can bring it up by boat.
Then it is time to settle in and set up camp. For the kids this is setting up bivi's for them to sleep in for the night. This is a simple as a rope between 2 trees through a large plastic sheet in a tube shape. The adults can grab a cuppa and mattresses for their sleeping. 
Finlay Park uber eats will arrive at about 5pm with your meal ready for you to cook on the BBQ at out camp. We can cater for the major dietary requirements, discuss these with the cooks before you come to camp. And then there is some time to chill out with a swim, emoji orienteering, or just hang out and tell scary stories round the camp fire. 
In the morning it is a short walk back for a boat pickup to be back to main camp for breakfast. A short and simple introduction to bush camping that can really add to add to an amazing camp experience at Finlay Park Adventure Camp.